Hiring 2 positions!
Licensed Therapist & Licensed provider

We are seeking a licensed therapist who is interested in working with couples and families. We have lots of requests from potential clients that are seeking couples and family therapy, but we don't have enough providers to immediately meet these requests. We are ALSO seeking a licensed provider or licensure candidate that has a heart for working with children. So, if you know of anyone who has a passion in these areas of practice, send them our way! We have a full-time therapist listing on indeed, but part-time contract work is also an option! Anyone interested can apply through indeed; click the below Indeed.com image to be taken to our job posting to apply: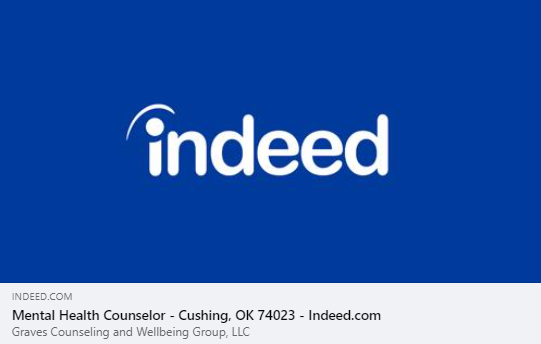 Graves Counseling and Wellbeing Group is a small company with a private practice feel. We are a close-knit team, and we are invested in each other and our community. Each member's health and wellbeing is prioritized over quotas and productivity, and team members are provided support in growing their individual practice and knowledge base.
We are seeking a licensed counselor (LPC or LMFT) who is passionate about working with a diverse client population. Additionally, we are striving to find a candidate who is interested in becoming a long-term member of our team and growing with our practice!
Benefits of joining the team:
· Approved with the National Health Service Corps for loan reimbursement
· Self-dictated schedule
· Discounted health insurance premiums
· Dental and vision add-on options
· Professional growth fund
· Funds to purchase materials and resources to grow your practice
· Technology fund
· Liability insurance
· Furnished personal office in a newly renovated facility
· Monthly self-care funds
· Sign-on bonus
· Autonomy to choose the clients and population you would like to serve
· Opportunity for a fantastic income...the more you work, the more you make
· Collaboration and consultation opportunities with team members
· Receive clients from an extensive referral base of medical clinics, hospitals,
schools, churches, businesses, and more
· Clerical and billing support
· Opportunity to grow your expertise and pursue certification in different treatment
modalities
Job Type: Full-time
Pay: $50,000.00 - $77,500.00 per year
Benefits:
Dental insurance
Flexible schedule
Health insurance
Professional development assistance
Vision insurance
Schedule:
Supplemental pay types:
COVID-19 considerations:
We have equipped each office with HEPA air purifiers that have UV Lights. Employees are provided with any safety materials they request to feel safe and comfortable. Telehealth services are also available upon request.
Ability to commute/relocate:
Cushing, OK 74023: Reliably commute or planning to relocate before starting work (Required)
Application Question(s):
Do you have experience in utilizing electronic health records systems?
Are you paneled with any insurance companies?
Experience:
counseling: 2 years (Required)
License/Certification:
LPC or LMFT in OK (Required)

Graves Counseling & Wellbeing Group
1442 East Oak Street
Cushing, Oklahoma 74023
Images
Additional Info
Job Type : ""
Job Function : ""