WE ARE HIRING!
We want to fill our vacant counseling position!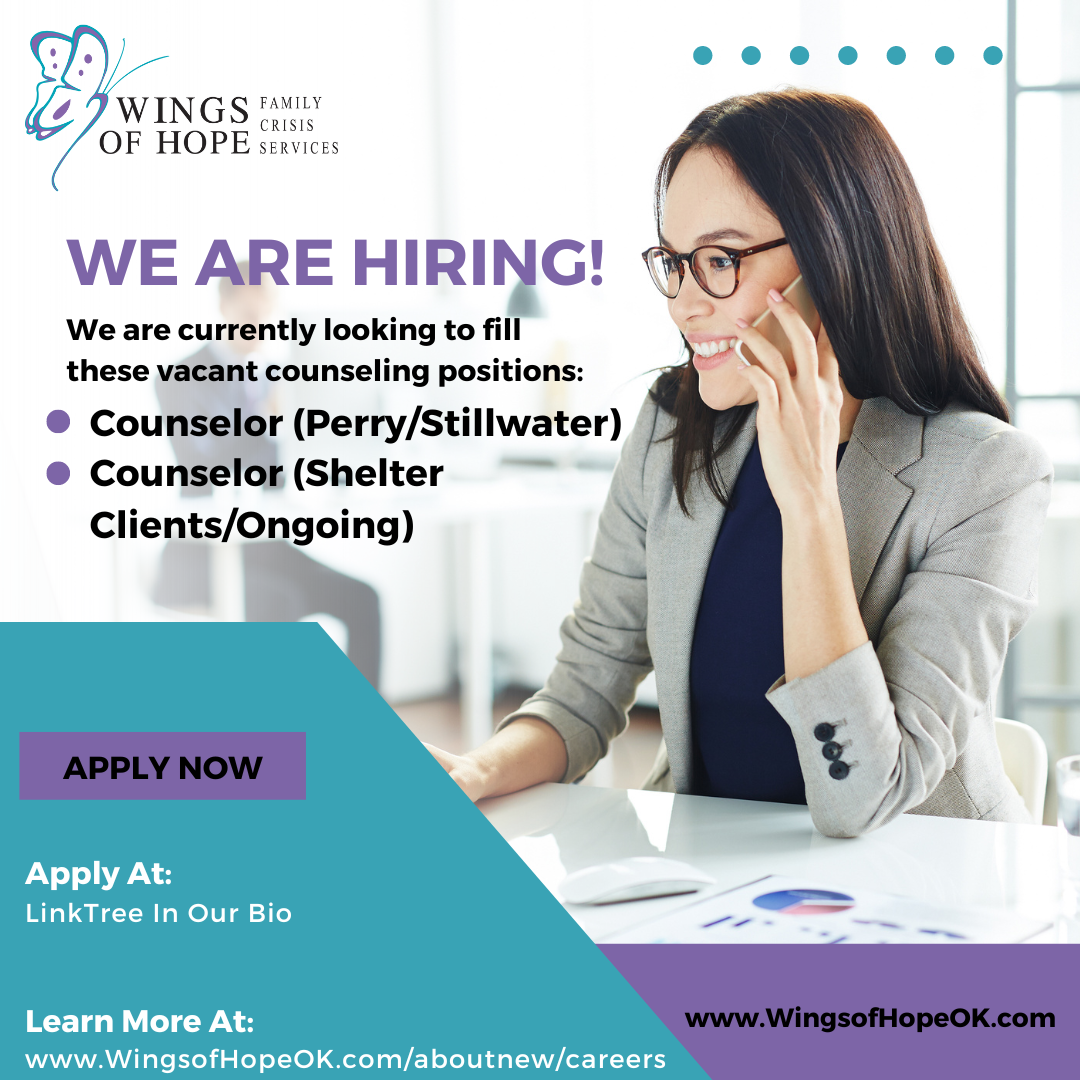 Part-Time Counselor: Wings of Hope Family Crisis Services is looking for a part time counselor to provide individual, group, marriage, and/or family therapy to clients. If you are interested in applying for this position or learning more about it, please click here.
MAJOR RESPONSIBILITIES
Provide individual, group, marriage, and/or family therapy to clients

Provide short-term crisis intervention to those people requesting this service

Provide services to the clients staying in the shelter and ongoing when needed

Provide therapy in the best interest of the client while upholding strict adherence to professional rules of conduct in areas of confidentiality and other ethical concerns
REQUIREMENTS
Master's degree in counseling related field. Licensed mental health professional, or license-eligible under supervision.

Preferred one year experience in related clinical setting
JOB KNOWLEDGE AND SKILLS
Knowledge of a variety of counseling techniques and demonstrated skill in application of these techniques

Demonstrated skill in crisis intervention techniques

Knowledge of child development and effects of trauma on children and families

Knowledge of community resources and ability to make appropriate referrals

Knowledge of the psychological and physical effects of domestic violence, child abuse, sexual assault, and emotional abuse as well as issues of legality, ethics, and treatment of these effects

Ability in not imposing self values or judgment onto victims or perpetrators of domestic violence, sexual assault or child abuse.
Images
Additional Info
Job Type : ""
Job Function : ""