We are seeking a Manufacture Production Technician I
Full-Time Position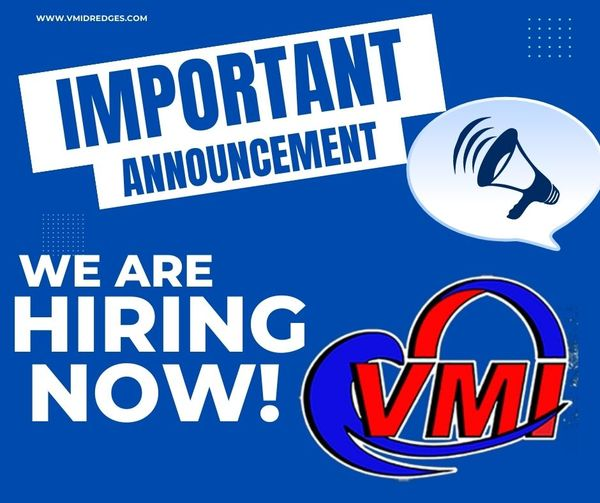 NOW HIRING!
Help Wanted - We Are Seeking A
Manufacture Production Technician 1

Apply in Person at:
VMI, Inc.1125 N Maitlen Drive
Cushing, OK 74023
Or Apply Online
Job Duties and Responsibilities
• Assist with manufacturing and assembly of dredge equipment and accessories
• Follows blueprints, guidelines, and/or diagrams to ensure product specification and tolerance levels are met
• Maintains required records of production and reports any inconsistencies or equipment issues following standard procedures
• Plan and layout work to meet production and schedule requirements
• Test products or subassemblies for functionality or quality by testing electrical, mechanical or integrated systems or equipment
• Read and interpret electrical and mechanical drawings
• Wire and assemble electrical components
• Assemble mechanical and hydraulic components
• Assist with troubleshooting, diagnosing, and repairing mechanical and electrical issues with equipment
• Operates production equipment and tools
• Provide advice or training to other technicians on proper operational procedures
• May assist with testing of equipment
• Inspects finished products for quality, adherence to specifications, and proper functionality
• Collect hazardous or non-hazardous waste in correctly labeled barrels or other containers and transfer them to collection areas
• Troubleshoot problems with equipment, devices, or products to determine cause of operational problems or failures
• Assist loading and unloading of trucks and dredges
• Assist engineers in developing, building, and/or testing prototypes or new products, processes and/or procedures
• Maintains clean, safe and organized yard, warehouse and paint shop
• Perform machine maintenance and repairs as needed
• Weld and fabricate components as needed
• Sandblast and paint dredges as needed
• Assists in other areas as needed
• Assist in other areas as needed
Give us a call at 1-918-225-7000 FOR MORE INFORMATION AND TO SUBMIT YOUR RESUME.
Learn more about us: https://vmidredges.com/careers.html
Images
Additional Info
Job Type : ""
Job Function : ""