Kaiser Automotive
Categories
Automotive Maintenance and repairs
About
For Top-Tier Car Repairs, Call Kaiser Automotive Today
The car mechanics at Kaiser Automotive have one goal: To make sure that everyone who walks through our doors can drive their car off the lot happy and satisfied with our services. And we'll do everything in our power to make this happen.
Give us a call to book an appointment for service or auto repairs!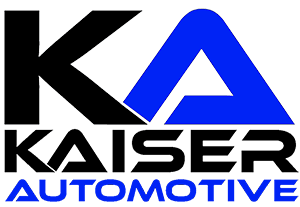 With years of professional experience and a dedication to top-tier service standards, Kaiser Automotive has established itself as the region's leading auto repair shop. Our fully licensed and certified mechanics are expert problem solvers ready to take on new challenges and hone their skills.
For repair jobs big and small, give us a call or drop by the shop to book an appointment.
Full-Service Auto Repair Shop
The automotive industry is always changing and adapting to demands and trends. Our mechanics are always updating their knowledge and their skills to adapt to innovations in the automotive industry. This is especially true for vehicles made in the last ten to fifteen years, which feature more electronics and computer-controlled components than ever before. At the same time, we do repairs for older and vintage vehicles as well. You can be sure that no matter what vehicle you have, we have all your auto repair needs covered.
Here is a list of some of our most sought-after services:
Engine repair
Electrical system repair
Electrical, differential, and four-wheel-drive system
Transmission repair
Transaxle restoration
Steering repair
Suspension repair and maintenance
Brake repair and maintenance
Lube, oil, and filter replacements
Quick Car Repair and Honest Quotes
We want to make sure that all our clients know they're getting what they're paying for. That's why when we give you a quote, it's always accurate, transparent, and honest. Included will be a full cost-breakdown for labor and parts so that you can make the right decision for your car and your budget. If we discover new problems in the course of repairing your vehicle, we will call you straight away and ask your permission to go ahead with the extra work. Our quotes also come with an estimated completion date—a target that we strive to hit every time.
Clients love that we're not just in the business of top-quality car repairs, we also aim to complete the work on time and on budget.
Experienced Car Mechanics
All our mechanics are licensed and certified in a full range of services. Many of our mechanics are also specialized in specific services. That way, when you need your transmission or your onboard wireless system repaired, you know it's being taken care of by an expert. We stake our reputation on every automotive repair we complete. At Kaiser Automotive, it's all about the details. By focusing on quality above all else, we maintain higher service standards than any other auto repair shop in the region.
Book an appointment today and find out why we're the best auto repair service around.
Additional Info
We are a Family-Owned and Operated business. We are budget friendly, with a 10% discount on labor for First Responders and a 2 year to 24,000 mile warranty guarantee.
Check out our

Google Reviews

or add your own review!

CLICK HERE
Hours of Operation
Mon - Fri: 8:00AM - 5:00PM
Sat: 9:00AM - 1:00PM
Sun: Closed
Contact Info
204 E Main
Cushing, OK 74023
2324 E 6th Ave
Stillwater, OK 74074
Phone: (405) 338-9495
Email: info@kaiserautomotive.com
Images