American Legion Post 108 Flag Retirement Ceremony
Wednesday, June 14, 2023 (6:00 PM - 7:00 PM) (CDT)
Description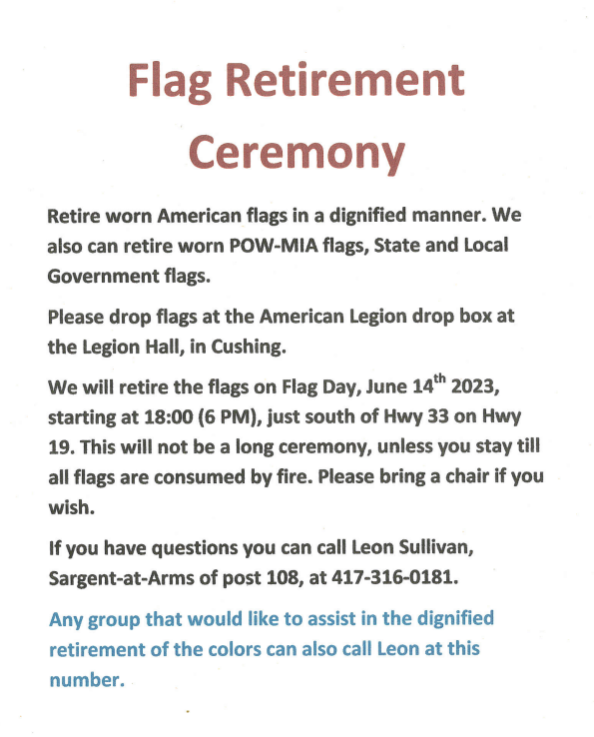 AMERICAN LEGION POST 108
FLAG RETIREMENT CEREMONY
JUNE 14, 2023
1800 HOURS (6 PM)
SOUTH OF HWY. 33 ON HWY. 18
Retire worn American flags in a dignified manner. We also can retire worn POW-MIA flags, State and Local Government flags.
Please drop flags at the American Legion Drop box at the Legion Hall, in Cushing.
We will retire the flags on Flag Day, June 14, 2023, starting at 1800 hours (6 PM), just south of Hwy. 33 on Hwy. 18. this will not be a long ceremony, unless you stay until all flags are consumed by fire. Please bring a chair if you wish.
If you have questions you can call Leon Sullivan, Sargent-at-Arms of Post 108, at 417-316-0181.
Any group that would like to assist in the dignified retirement of the colors can also call Leon at this number.
Images
South of Hwy. 33 on Hwy. 18



Cushing

,

74023



south of Hwy. 33 on Hwy. 18 - For exact location, please contact Sargent-In-Arms Leon Sullivan at 417-316-0181.
Event Contact
Leon Sullivan
Wednesday, June 14, 2023 (6:00 PM - 7:00 PM) (CDT)
Flag Retirement Ceremony starts at 1800 Hours (6 PM)