CHS & CCoC EZ Eats Program
Monday, October 24, 2022 8:00 AM - Friday, November 11, 2022 5:00 PM (CDT)
Description
CHS & CCoC EZ EATS PROGRAM
For Cushing High School Students, teachers, and staff ONLY. NOT OPEN TO THE PUBLIC.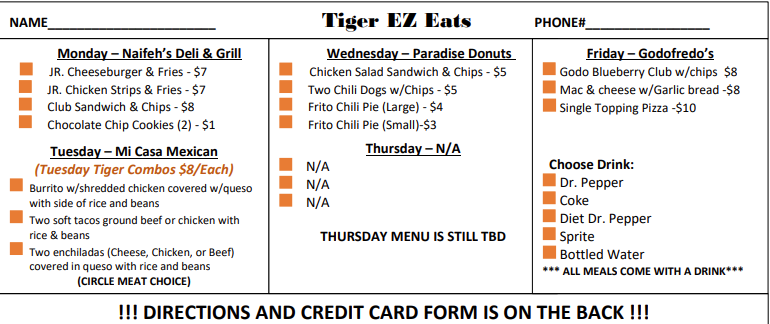 In an effort to help keep our Cushing High School Tigers safe and away from the Main St./Hwy. 33 Road Construction during the open campus lunch period, Cushing High School and Cushing Chamber of Commerce have partnered up again to bring the CHS students our EZ Eats Program. The program started last week and so far, so good!
Together with the help of some of our amazing Chamber Member Restaurants, we are offering the students all sorts of different menu options almost every day from a different Restaurant. Students will place their orders by choosing one of the three menu options being offered by that day's restaurant. Prices are low and include all taxes and a Drink. Students pay exact cash/change or write their Credit Card information onto the form, and turn in their orders by 10 am at the EZ Eats Program lock box stand. They place the order slip and cash if applicable into an envelope and then slip it into the lock box. Orders are then delivered tot he School before the 11:55 am Lunch period bell by that day's restaurant. All cash payments must be exact change or the excess is given to the restaurant as a tip so there is no exchanging of change/cash. The CHS office does not have change/cash on hand, either. Our Member restaurants are really doing all of the "heavy lifting" on this program; if you go to that restaurant to eat, PLEASE be sure to THANK THEM for sponsoring this program and for everything they are doing for the program! This is a little bit of a "hit" to their bottom line, and they have to deliver the orders to the school, so that's another expense and a staff member away right before the Noon lunch rush at the restaurant. We cannot express to all of them how thankful we are for their generosity with this program and for Cushing High School! They are awesome!
Parents: Please give your students Fives and Ones for lunch money so they can partake in the EZ Eats Program and have exact change; or, if they have a credit card, please tell them to write CLEARLY and DOUBLE CHECK the numbers on the form to pay by Credit Card. We have already had someone not get their lunch because the credit card numbers were written down incorrectly!
At this time, all days are booked. We will not "double up" on days with two restaurant choices unless we are able to fill ALL days with Two restaurants. Please let Tracy at the Cushing Chamber know if your Member restaurant would be interested in being a part of this program.
Thank you to Cushing High School for allowing us to "run wild" with our ideas and allowing us to try this program out at CHS! We are hopeful that this program will grow and help keep the students safe and away from the road Construction.
Sponsors
CCoC & CHS EZ Eats Program Sponsor
Godofredo's Pizzeria & Tap Room
Mi Casa Mexican Enterprise
Paradise Donuts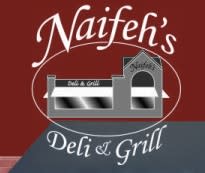 The Naif Café
Images
Cushing High School
1700 E. Walnut Ave.



Cushing

,

OK

74023

United States



Monday, October 24, 2022 8:00 AM - Friday, November 11, 2022 5:00 PM (CDT)
Orders must be placed by 10 am Orders will be delivered by the lunch period bell at 11:55 am