Cushing Community Theatre "A Tuna Christmas" Play
Friday, December 2, 2022 7:00 PM - Sunday, December 11, 2022 2:00 PM (CST)
Description
CUSHING COMMUNITY THEATRE: CHRISTMAS PRODUCTION
"A TUNA CHRISTMAS'
STARRING: BRETT ANDERSON & DAVID TIMMONS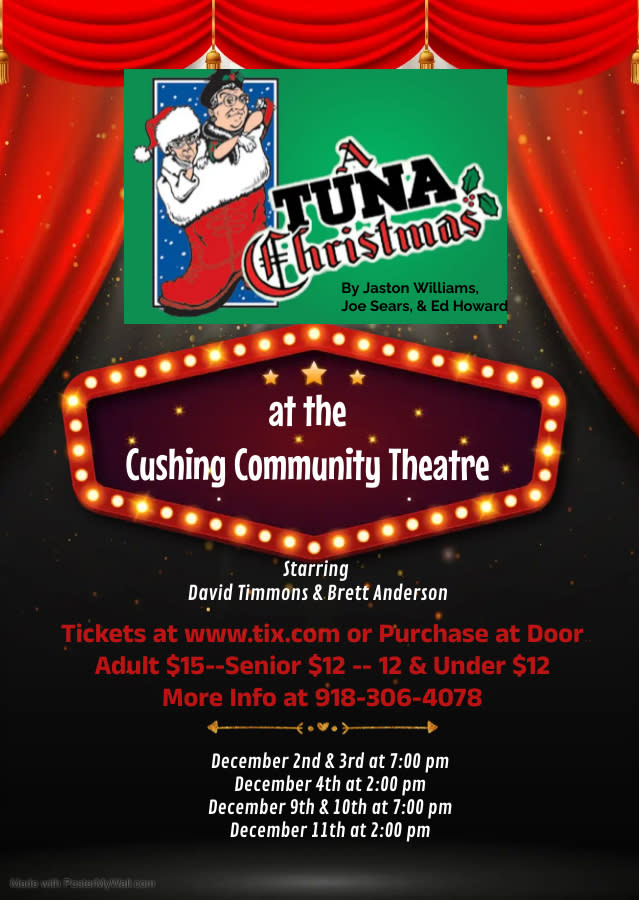 DEC. 2 & 3, 2022 @7 PM
DEC. 4, 2022 @2 PM
DEC. 9, 2022 @ 7 PM
DEC. 10, 2022 @7:30 PM DUE TO THE CUSHING CHAMBER CHRISTMAS PARADE AT 6 PM
DEC. 11, 2022 @ 2 PM
Seasons Greetings from A TUNA CHRISTMAS, the hilarious sequel to the hit comedy, Greater Tuna, starring David Timmons and Brett Anderson with their deft comedic timing, trademark characterizations and split-second costume changes. These two actors portray all 24 citizens of Tuna, the third smallest town in Texas, where the Lion's Club is too liberal and Patsy Cline never dies!
This time, it's 24 hours before Christmas and the delightfully eccentric characters are attempting to cope with seasonal traumas such as a disaster prone little theatre production of A Christmas Carol, and a yard-decorating contest being sabotaged by a mysterious Christmas phantom.
Be sure and join these two actors again this summer for the third show entitled, "Red, White, and Tuna" around the July 4th holiday. You wont' want to miss any of these shows! Hilarious!
Tickets are usually available at the door, and check our Facebook page for upcoming shows. You may also purchase tickets online at www.tix.com. (This show does contain some adult language and situations and may not be suitable for small children).
DIRECT LINK TO PURCHASE TICKETS ONLINE:
CLICK HERE FOR WWW.TIX.COM direct CCT ticket sales page
Or purchase tickets at the Door the night or day of production
TICKET COSTS:
ADULT - $15/EACH
SENIORS - $12/EACH
12 & UNDER - $12/EACH
GROUPS OF 10 OR MORE, TICKETS ARE $10/EACH!
FOR MORE INFORMATION CALL: 918-306-4078
OR contact Michele Music at 918-729-2110
Images
Pricing
DIRECT LINK TO PURCHASE TICKETS ONLINE:
CLICK HERE FOR WWW.TIX.COM direct CCT ticket sales page
Or purchase tickets at the Door the night or day of production
TICKET COSTS:
ADULT - $15/EACH
SENIORS - $12/EACH
12 & UNDER - $12/EACH
FOR MORE INFORMATION CALL: 918-306-4078
Cushing Community Theatre
105 E Broadway Street



Cushing

,

OK

74023

United States



Friday, December 2, 2022 7:00 PM - Sunday, December 11, 2022 2:00 PM (CST)
DEC. 2 & 3, 2022 @7 PM
DEC. 4, 2022 @2 PM
DEC. 9 & 10, 2022 @ 7 PM
DEC. 11, 2022 @ 2 PM