"Jingle Bell Days" Shopping Event
12/8/2022 - 12/10/2022
Description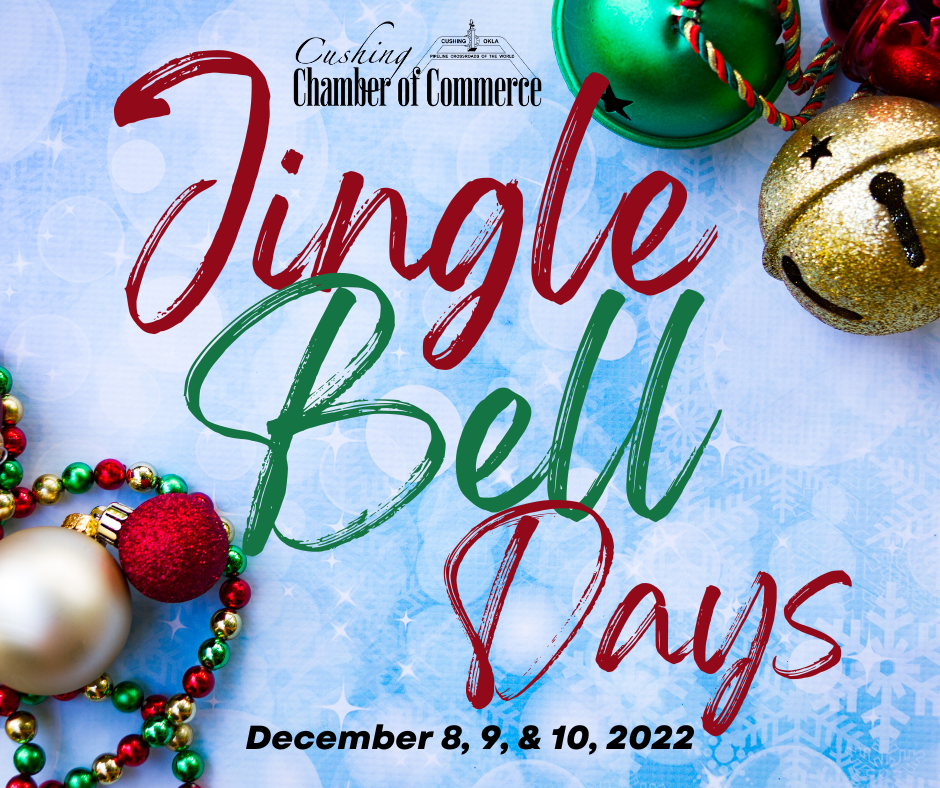 CUSHING CHAMBER JINGLE BELL DAYS CHRISTMAS SHOPPING EVENT
Special Christmas Shopping events throughout Cushing, OK!
December 8, 9, & 10, 2022
Watch your favorite small business social media pages for specials & sales they may have.
PARTICIPATING JINGLE BELL DAYS CUSHING CHAMBER MEMBER BUSINESSES:
(To find out what each business is doing, click business name link to be taken to their HOT DEALS PAGE)
CARGILL CUSTOM LEATHER - Make your own leather ornaments & 12 Days of Christmas Sale!
SilverTown Espress- Jingle Bell Days Events- Letters to Santa- Doggie Christmas- Merry Grinchmas
Tiger Lily's Floral Design- Holiday Wine & Design Make your own wreath or centerpiece
Cushing Community Theatre- A Christmas Play "A Greater Tuna Christmas"
Copper Penny Trading Company/ Backroom Cafe- Meet Santa & Free Carrige Rides
Pueblo Viejo- Percentage off of orders & Christmas Party
Cushing Public Library- Tour of Trees & Ginger Bread House Workshop
Cushing, OK JINGLE BELL DAYS - A #SmallBusinessSeason Event! MARK YOUR CALENDARS!
Let's have some JINGLE BELL DAYS throughout Cushing, OK to REALLY get into the Christmas shopping spirit! Businesses will be having sales & specials starting Dec. 8 through July 10. Pledge to Support Local Cushing businesses by shopping LOCAL during JINGLE BELL DAYS!
Local Cushing Businesses: You are welcome to have ANY KIND OF SPECIALS & SALES you would like to have during this time period; be sure to make them JINGLE BELL worthy!
Cushing Chamber Member Businesses: SEND US YOUR SPECIALS & SALES! We will help promote anything & everything you are doing on our social media pages; our Member E-Blasts; and our Website Jingle Bell Days event calendar page & an individual listing on our Hot Deals page.
Any local Cushing Business can participate, but to be listed as a participating business on Cushing Chamber marketing & advertising, you will need to be a Cushing Chamber Membership Business. This will help keep all of the specials & Sales throughout our Cushing Member businesses altogether in one convenient place and will help the public find all of the JINGLE BELL DAYS specials & sales from our Members!
Let's get to helping Santa do some #SmallBiz Shopping, Cushing!

🎅🏼

#JingleBellDaysCushingOK
#SmallBusinessSeason #SupportSmallBiz #LoveLocalCushing #LiveWorkPlayEatInCushingOK
REMEMBER TO USE THE HASHTAGS ABOVE ON YOUR POSTS TO HELP PEOPLE FIND YOUR SALES & SPECIALS!
December 8, 2022: "Christmas On Cleveland" - Businesses on Cleveland St. in the Broadway District will have special events going on outside and inside their businesses.
December 9, 2022: Specials throughout Cushing, OK businesses
December 10, 2022: Broadway District businesses will have specials & sales; lots of fun going on in the Broadway District before the Cushing Chamber Annual Christmas Parade starts at 6 pm! Broadway District participating businesses & stores will have snacks; drinks; hot chocolate; candy canes; and more for all shoppers to enjoy as you shop.
IT'S TIME TO THINK IN THE BOX 🎁 (OR STOCKING! 🧦)!
Small, LOCAL CUSHING, OK Businesses are here to please! Think about Gift Cards; Date night packages of gift cards; Mommas Night Out package; Dad's Night Out package; Kids Night Out package; homemade goods from LOCAL CUSHING homebased businesses; quarterly or monthly subscriptions; just think OUTSIDE the norm of what you usually do for Christmas presents... GET CREATIVE and SUPPORT SMALL BUSINESSES!
Images
Cushing, OK
Throughout Cushing, OK in Small Businesses



Cushing

,

OK

74023

United States