Leadership Cushing 2023 Program
Friday, March 31, 2023 11:30 AM - Friday, September 22, 2023 1:00 PM (CDT)
Description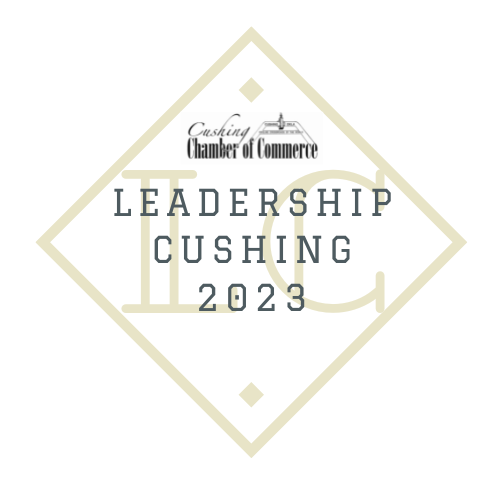 LEADERSHIP CUSHING 2023 PROGRAM
Hosted by the Cushing Chamber of Commerce
LC 2023 Participant Applications are now open as of Feb. 14, 2023 until March 17, 2023 by 5 pm
APPLICATION DEADLINE EXTENDED: MARCH 22, 2023 AT 5 PM
Sponsorships are available for the LC 2023 session or individual sessions
Class sessions start March 31, 2023 through September 22, 2023 with at least two (2) sessions per month.
Leadership Cushing is a seminar program hosted by the Cushing Chamber of Commerce. The mission of Leadership Cushing is to prepare a representation cross section of the community's emerging leaders for their potential role in shaping the future of the Cushing Area. This mission is achieved by acquainting class members with current community issues, providing a framework for meeting and working with other outstanding community leaders, promoting greater awareness of community resources, and offering avenues to become more civically involved through service projects and other community activities and/or leadership positions.
For more information on our Leadership Cushing Program and for the 2023 Schedule of Sessions (Itinerary), please click HERE for our Website Leadership Cushing Page, that is in the pull-down menu under the "About Us" tab on our website Home Page. This page also hosts the online application form; downloadable PDF application form; LC 2023 downloadable brochure; and more.
HOW TO APPLY FOR LEADERSHIP CUSHING 2023:
The first step in applying for Leadership Cushing 2023 is filling out the online application form or downloading the PDF hard copy application; the second step is tuition registration that is through this event page. Click HERE for the online application, or go to the Leadership Cushing page under the "About Us" tab on our home page.
All session dates, times, and locations are TENTATIVE; any & all are subject to change at ANY TIME.
TUITION FOR PROGRAM:
Tuition includes all meals and admission to locations during class days. Transportation is the responsibility of the participants. Once applicant is accepted to the program, tuition is non-refundable. To register your tuition after you have completed your online or hard copy application, click the REGISTER button on this page. To pay tuition via credit card, please click the REGISTER button AND click to add the credit card processing fee. If wanting to pay via check, please click the "Be Invoiced" button above the credit card entry information on the registration page. TUITION IS DUE BY MARCH 31, 2023.
$400 - Members of Cushing Chamber of Commerce - $50 OFF TUITION IF SIGN UP THROUGH YOUR INFO HUB ACCOUNT BEFORE MARCH 10, 2023!
$500 - Non-Members of Cushing Chamber of Commerce
FOR SPONSORSHIPS, PLEASE CLICK THE BLACK REGISTER BUTTON ON THIS PAGE.
SCHOLARSHIPS:
Enbridge Scholarships: Enbridge will sponsor (2) Member tuitions. Please select the option to be submitted for a scholarship on your application
If there are over three (3) applicants that apply for a scholarship, Enbridge will choose who will receive their respective scholarships. For more information, please call Tracy Caulfield at the Cushing Chamber office.
Deadline to turn in applications is Friday, March 17, 2023 by 5 PM. DEADLINE EXTENDED TO MARCH 22, 2023 AT 5 PM. Tuition is payable on or before Friday, March 31, 2023 by 5 PM.
Each participant is required to attend at least Eight (8) of the Ten (10) sessions to be eligible to graduate from the program (exceptions are reviewed by the Steering Committee).
LEADERSHIP CUSHING 2023 SPONSORSHIPS:
Sponsorships are due by March 31, 2022 by 5 PM. Please click the Right hand REGISTER button to sign up for sponsorships. These are a great way to support the LC Program as well as connect with the participants in the program; not to mention an amazing marketing opportunity for your business.
REGISTER YOUR TUITION ONCE APPLICATION HAS BEEN SUBMITTED (REQUIRED):
Once your LC 2023 online or hard copy application has been submitted, please click the black REGISTER button on this page to register your tuition. You are welcome to pay via credit card at this time, or choose to be invoiced. If you choose to pay via credit card at this time, please click the Credit Card Processing fee to be added to your invoice. If you neglect to add it to the overall invoice, your business will receive a separate invoice for the credit card processing fees.
If choosing to be invoiced so your business can cut a check, please check the box "To Be Invoiced" at the bottom of the registration page. In your automatic confirmation email that you will receive once you hit "Submit", your invoice will be attached. The Cushing Chamber will also US Mail an invoice to your business. All tuition payments and sponsorship payments are due no later than March 31, 2023.
LINKS TO FORMS:
CLICK HERE FOR LC 2023 ONLINE APPLICATION.
CLICK HERE TO DOWNLOAD A PDF & PRINT A HARD COPY OF THE LC 2023 APPLICATION.
Sponsors
Scholarship Sponsor
Images
Pricing
TUITION:
CUSHING CHAMBER MEMBERS: $400/PER PERSON
NON-CUSHING CHAMBER MEMBERS: $500/PER PERSON
Tuition Scholarships are available! Thank you to Enbridge for sponsoring two scholarships!
Cushing Chamber of Commerce
1301 E Main Street



Cushing

,

OK

74023

United States



Friday, March 31, 2023 11:30 AM - Friday, September 22, 2023 1:00 PM (CDT)