Creating a Memorable Buying Experience This Small Business Season
7 helpful tips to make it the best for your customers this Holiday Season
Creating a Memorable Buying Experience This Small Business Season
What is one benefit your brick-and-mortar business has over online sellers?
This is an important question to ask to get more people to shop small or shop local this holiday season. When someone can grab their phone and purchase a gift quicker than it takes to find a parking space, why should they buy in person?
One thing you can provide that they'll never get online is a magical shopping experience. And since we've all heard how important experiences are these days, it's time you start thinking about the experience you are (or could be) providing.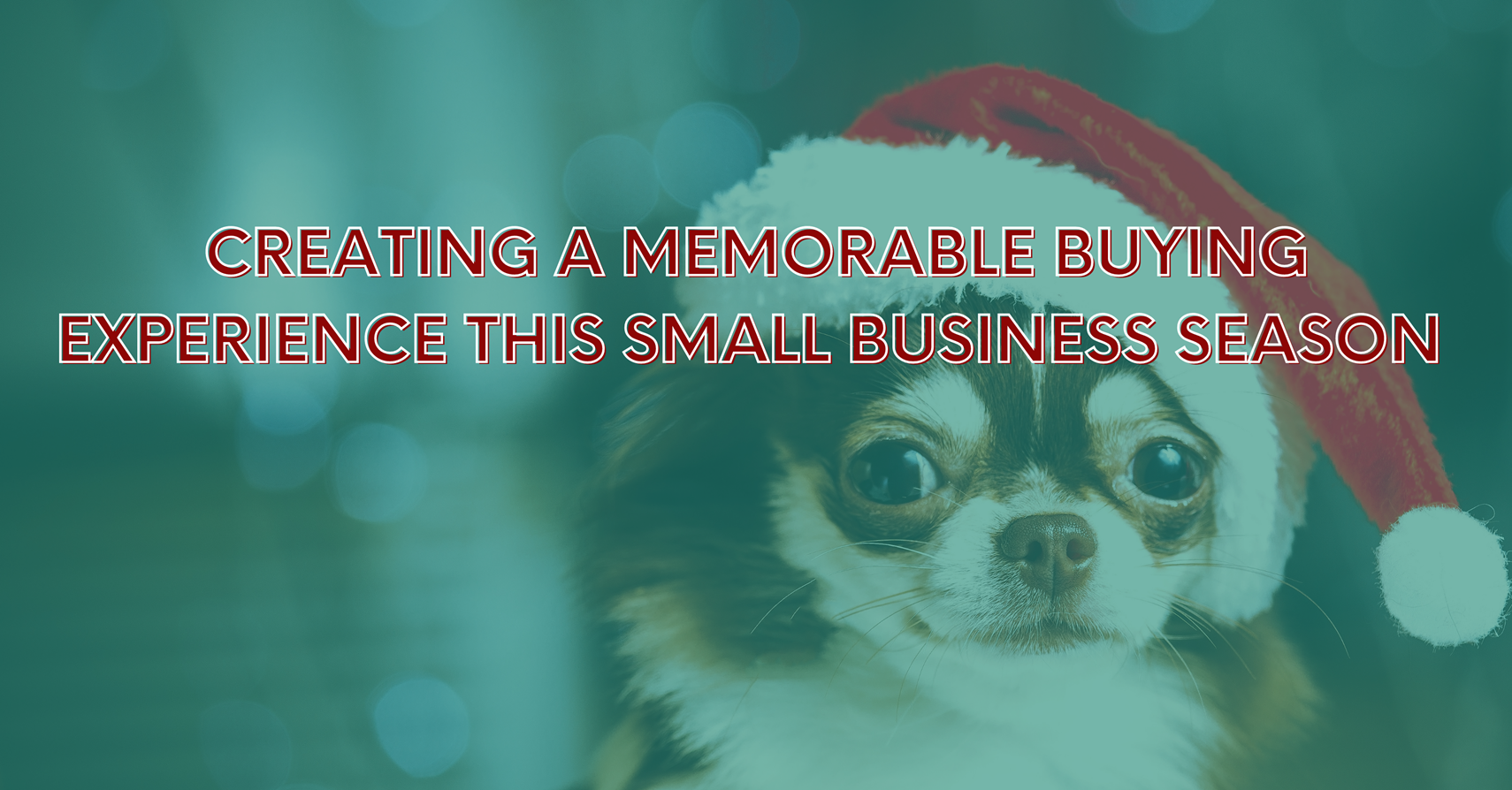 Creating a Memorable Buying Experience This Holiday Season
According to American Express, 86% of customers polled admitted they would be willing to pay more for a better customer experience. So, in addition to raking in those shop small customers, you could be justifying a price increase as well.
How do you get started providing a memorable experience? At the beginning, of course.
A Functioning Website
This may seem counter intuitive but part of providing an excellent customer experience (even for in-person shopping/buying) is by creating a functional, well-updated website. Some people will still use search to find you, figure out if you're open, what you sell, and whether they can get what they want from your business by visiting your website before they plan an in-person visit.
If your website is confusing, outdated, or doesn't host important information critical to answering their buying question, they may skip an in-person visit.
A Welcoming Business Storefront
The holiday season is the perfect time to shine. Decorate whatever portions of your business' exterior and road-visible interior you can (keeping municipal rules in mind, of course) to attract customers.
💡The Cushing Chamber Christmas Parade Theme is "A Whoville Christmas". One suggestion would be to use this theme as a jumping board to creating something fun and whimsical on your windows and/or outside decor, as well as inside. Show Community spirit and unity when decorating, which shows customers the comradery of the community, and they will want to be a part of it by shopping your business and learning more about the business unity.
Just as working on curb appeal can make your home more interesting to a potential buyer, creating a welcoming storefront can bring customers in.
Delightful Smells or a Reason to Linger
You want to move people past the first few feet of your business and into the interior. After all, they're likely not going to pull out their wallet on your doorstep. When setting up your display, or thinking about your traffic flow, give them a reason to move deeper inside. You can use delightful holiday smells (liked freshly baked cookies) or entrancing holiday lights toward the back of your business.
A Friendly Greeting and a Presumptive Close
Greet every potential customer with a smile and a welcome. Tell them what your specials are or ask them a specific question like "Do you like sugar cookies?" followed by a presumptive close such as, "We just pulled a tray out of the oven. How many should I bring you?" The presumptive close is always a good way to get engagement. Even if they ultimately turn you down, you get them talking. If you simply say, "let me know if I can help you find something," you're not inviting anything more than an "okay" or nod.
Something Extra
Ever notice how an unexpected nicety impacts your whole day? Even something small like a smile from a stranger can bolster your mood.
The same is true when shopping small. Do something more for your customers. Place their item in a colorful gift bag, package an extra special morsel of goodness with their leftovers. Look for small ways to make an impression on them.
A Big Helper
Creating an amazing experience will increase customer loyalty and customer reviews. It may even cause customers to buy/spend more. But your efforts will be more widely noticed if you partner with a larger organization, such as your local Chamber of Commerce, the Cushing Chamber, to help you get the word out. Your local chamber of commerce, has a Small Business Season campaign that can make your holiday season (and marketing efforts) even more magical while also benefitting your customers.
💡 Your Cushing Chamber is bringing back their "Chamber Charlie, Elf on a Shelf Scavenger Hunt" for this year's Small Business Season. Almost all weeks are booked, so give them a call to see if there are anymore weeks available for your business to participate if you are a CCoC Member; but also there are still lots of opportunities to get involved with the Christmas parade and with Chamber Charlie. Help support these fantastic community events and give them a call today to find out more if you are a Member.
Becoming a part of their program adds to the fun experience you are creating on your own. Think about having a parade entry; anyone can have a free entry in the Christmas parade with the Cushing Chamber. Check out their Christmas Parade Event on the Event Calendar tab on their website for more info and to register your entry online.
Don't settle for a single "Shop Small" day. Look for ways to improve the buying experience for potential customers throughout the entire holiday season. After all, when online retailers refer to customer experience, they're talking about ease of navigation and clicks. When brick-and-mortar businesses talk customer experience, they're referring to making memories and creating special times for their customers.
In-person always has the potential for more fun than something that relies on an internet connection. Capitalize on that this holiday season.
Images