Cushing Public Library
Categories
Broadway District Libraries
About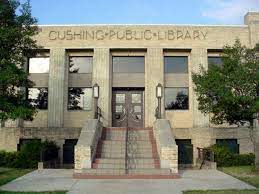 WELCOME TO THE CITY OF CUSHING PUBLIC LIBRARY!
PLEASE GO TO OUR WEBSITE, https://cushinglibrary.okpls.org/, TO CHECK OUT EVERYTHING WE OFFER OUR COMMUNITY; WE ALSO HAVE AN ONLINE BOOK CATALOG! CHECK IT OUT AND VISIT US SOON!
FOR ALL LIBRARY ACTIVITIES AND EVENTS, BE SURE TO CHECK OUT OUR INSTAGRAM PAGE AND WEBSITE. We are always doing something fun and adventurous!
Images