Palmer Marler Funeral Home
Categories
Funeral & Cremation Services
About
Business Hours: Mon-Fri 9am-4pm
Palmer Marler Funeral Home
"People Who Care"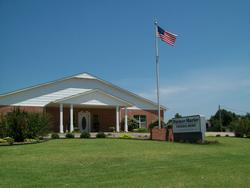 For well over 100 years, families in the Cimarron Valley have called upon Palmer Marler Funeral Home for assistance in their time of need. All of our locations are committed to continuing the family tradition of our founders.

Our motto "People Who Care" is much more than a casual statement, it is our way of life. We are proud of the fact that we are independently owned and operated.

Our primary concern is making this difficult time a little easier for the families we serve. In this spirit, we have created this online resource to provide families with information about our services and facilities, as well as useful items and services such as obituaries, maps, directions, local florists, and nearby lodgings. Planning a funeral, while dealing with a loss, is often a bit overwhelming for families.

The respectful and understanding staff of the Palmer Marler Funeral Home is uniquely qualified to help you through this difficult process. We are available to assist you and your family with every aspect of funeral planning, from memorial services, cemetery needs, to insurance claims, obituaries, and veteran's services. We are also available to help you apply for veteran's and social security benefits.

We truly appreciate the thousand's of families that have placed their trust in us in their time of need. We pray daily that we will always be worthy of that trust.


Riley and Denise Castor, Owners/Funeral Director
Duane and Anita Marler, Funeral Directors (Past Owners)
Dusty Nugent, Funeral Director

We are available to be of immediate assistance 24 hours a day at (918) 225-2500 .

Try our new pre-planning tool on the left side of your screen to help plan for the future.

Serving Cushing, Oilton, Yale, Stillwater, Drumright, Agra, Morrison, Perkins, Coyle, Glencoe, Ripley, Stroud, Chandler, Davenport, Tryon and other surrounding communities.
Additional Info
A caring presence when you lose someone you love.
Images