About
Centerpoint Energy is now Summit Utilities


We're excited to be your energy provider!
To our valued customers:
We are honored to have the opportunity to serve your communities in Arkansas, Oklahoma, and the Texarkana.
While you don't know us yet, we are big fans of you and the communities we now serve.
As background, Summit was founded 24 years ago with a mission to bring natural gas to unserved and underserved communities. In honor of that legacy, we have built a company committed to providing clean, safe, and affordable energy solutions to communities in Arkansas, Colorado, Maine, Missouri, and Oklahoma.
The communities that we serve today look very different from the ones we started with two decades ago, but one thing remains the same: as an energy provider, and a public utility, we are committed to playing a pivotal role in helping build strong and prosperous societies.
We are bringing that commitment with us as we take ownership of CenterPoint Energy's gas utility systems in Arkansas, Oklahoma, and the Texarkana area.
In the coming months, you may notice some changes as operations of our gas utilities shift from CenterPoint to us. We know that change can be difficult – we promise to keep you in the center of all of our planning efforts.
In the meantime, we look forward to getting to know you and your community better in the months ahead.
We look forward to earning your trust in the months and years to come.
-Kurt Adams
President & CEO
Summit Utilities
VISIT OUR WEBSITE TO LEARN MORE ABOUT US!
CLICK THE WORLD ICON ABOVE ON THIS PAGE TO BE TAKEN TO OUR WEBSITE.
How does this affect you?
No immediate action needed on your part.
Please continue your normal payments and accessing your account at www.CenterPointEnergy.com
CenterPoint Energy will continue providing some services on behalf of Summit Utilities for the next twelve months.
As we begin to introduce the Summit Utilities brand, rest assured that the same local team members will continue to serve you and your community.
For customer service, please continue to call 800-992-7552 in Arkansas and Texarkana Area, and 866-275-5265 in Oklahoma.
We value your business and intend to make this transition as smooth as possible.
GO TO CENTERPOINT WEBSITE TO ACCESS YOUR
ACCOUNT & PAY YOUR BILL


Additional Info
Who is Summit Utilities?
Summit Utilities is part of a family of utility companies providing safe, reliable, clean and affordable natural gas to businesses and residential customers in Oklahoma, Arkansas, Colorado, Maine, and Missouri. Summit Companies strive to deliver exceptional customer service and a strong commitment to the communities we serve. We look forward to serving neighborhoods throughout CenterPoint Energy's Arkansas, Oklahoma and Texarkana Area service areas following the finalization of this acquisition.
SERVICE AREA MAP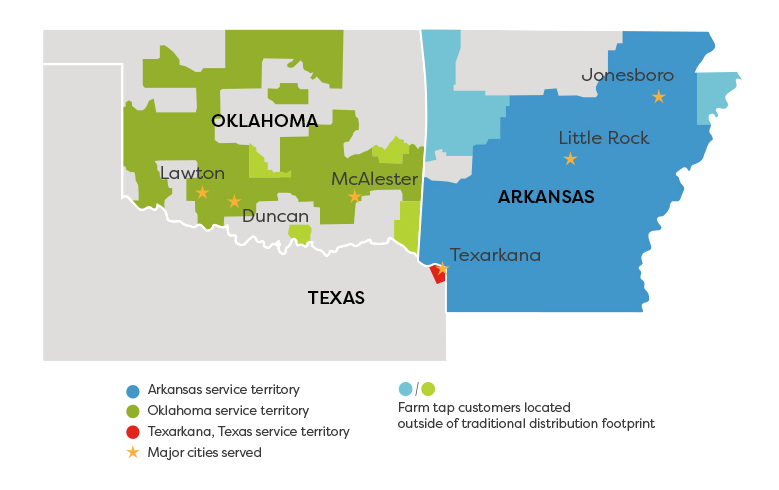 Images